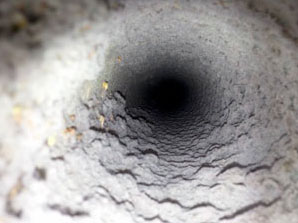 Knowledge is Power!  We want our customers to be well informed! We have compiled some of the most frequently asked questions by our clients and are sharing them with you to help you better understand your homes HVAC system! Please call us should you have any additional questions! We love to add to our list!  Leaving the dryer running while you are not home is a fire hazard! Most of us clean the lint trap in our dryers, but when was the last time that you hired a professional to clean the dryer vent. This area can accumulate dust, debris, and even little critters and create a fire hazard if completely blocked. We use the, Roto-Vision Video Inspection System to show you what your dryer vent looked like before and after we clean it!
How often does my Heating and Cooling System need to be serviced?
Your system should be serviced twice per year. Ideally once in the Spring for the Cooling System and once in the Fall for the Heating system for optimal efficiency.
Did you know that a typical duct system loses 25-40% of the heating and cooling energy it puts out and sometimes more when leaks are left undetected?
Air ducts are a very important part of the heating and cooling system and if not maintained can significantly increase the cost to operate your system. Have a professional check your ducts once per year and anytime you have work done in your attic. Sometimes vendors working in your attic can accidentally damage your duct work.
How often should I change my filters?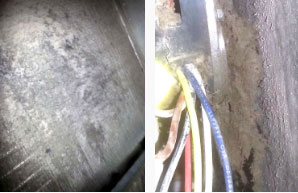 Every 2-3 months during the peak of the season: • Washable filters need to be washed once per month In the photo to the right is the blower motor just past the filter and AC coil that is connected to your air ducts. (Yes,that's in the air when you run your Heating and AC!) Water backing up and pouring into the furnace and poor filtration will end up costing you in the end. If you have a washable filter and you can't see through it when you hold it up to the sun it's probably not doing much for you. Remember washable filters need washing every 4-6 weeks.
• Use a Sharpie/Permanent marker and write the date you changed the filter directly on the filter to better track when it's time to change it next.
• Follow your manufacturers specifications
My system is not pushing out very much air, what could be the problem?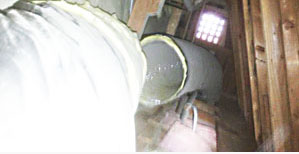 On a service call for poor air circulation, we found the main air trunk line disconnected. Remember your air ducts are a very important part of the heating and cooling system and a typical duct system loses 25- 40% of the heating and cooling energy it puts out. In this case it was a lot more.
How often should I change my thermostat batteries?
Change your thermostat battery every year when replacing your smoke alarm batteries. Sometimes a system malfunction is driven by a thermostat that has no power.
How often should the condenser be cleaned?
The condenser should be cleaned once per year in the spring before the warm summer months.
How can I minimize air flow loss at the registers?
Apply caulking to registers on the drywall to minimize air loss.
How can I maximize air flow?
Keep all supply grills open even in rooms you do not use to allow for proper air flow.